Samira Ebrahimi Kahou
Postdoctoral Researcher at McGill/Mila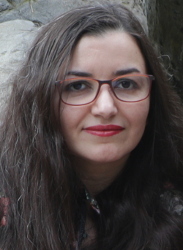 Mila, Office F11
6666 Rue Saint-Urbain
Montréal, QC
I am a postdoctoral researcher at McGill/Mila working with Professor Doina Precup. My current research interests are multimodal learning, reasoning across modalities, metalearning and in general efficient representation learning. I also work on deep learning methods for dialogue systems and humanitarian AI.
I was on maternity leave from May 2018 to February 2019.
Before my postdoc, I was a researcher at Microsoft Research Montréal.
I received my Ph.D. from Polytechnique Montréal/Mila in 2016 under the supervision of Professor Chris Pal. During my Ph.D. studies, I worked on computer vision and deep learning applied to emotion recognition, object tracking and knowledge distillation.
Feel free to reach out, if you're interested in my research and would like to discuss.
news
| | |
| --- | --- |
| Oct 1, 2019 | "HighRes-net: Multi-Frame Super-Resolution by Recursive Fusion" accepted at NeurIPS 2019 workshop SEDL and "Simple Video Generation using Neural ODEs" accepted at NeurIPS 2019 workshop LIRE. |
| Sep 7, 2019 | "Navigation Agents for the Visually Impaired: A Sidewalk Simulator and Experiments" accepted at CoRL 2019. |
| Jul 22, 2019 | "Tell, Draw, and Repeat: Generating and Modifying Images Based on Continual Linguistic Instruction" accepted at ICCV 2019. |
| Jun 3, 2019 | "Dead-ends and Secure Exploration in Reinforcement Learning" accepted at ICML 2019 and "Comparing normalization in conditional computation tasks" accepted at ICML 2019 workshop Understanding and Improving Generalization in Deep Learning. |
| Jun 3, 2019 | Our Element AI/Mila team placed second in the PROBA-V Super Resolution Challenge hosted by the ESA. |
| Apr 1, 2019 | After my return from maternity leave, I am excited to join McGill/Mila as a postdoc under the supervision of Professor Doina Precup. |
| Nov 5, 2018 | "Deep-hurricane-tracker: Tracking and forecasting extreme climate events" accepted at WACV 2019. |
| Oct 31, 2018 | "Towards Non-saturating Recurrent Units for Modelling Long-term Dependencies" accepted at AAAI 2019. |